Are you losing money due to your mobile site speed? Google's new Speed Scorecard can help.
When it comes to a mobile optimised website, users expect a fast and frictionless experience. The stakes for companies to deliver web pages promptly have never been so high. If the mobile experience doesn't meet their expectations, they will simply move on. The thrill of the hunt, whether redeeming a discount code or confirming delivery details, can often be hindered by slow mobile sites. A new tool from Google called Speed Scorecard can help to show you how you stack up against your competition and the potential revenue impact of mobile site speed.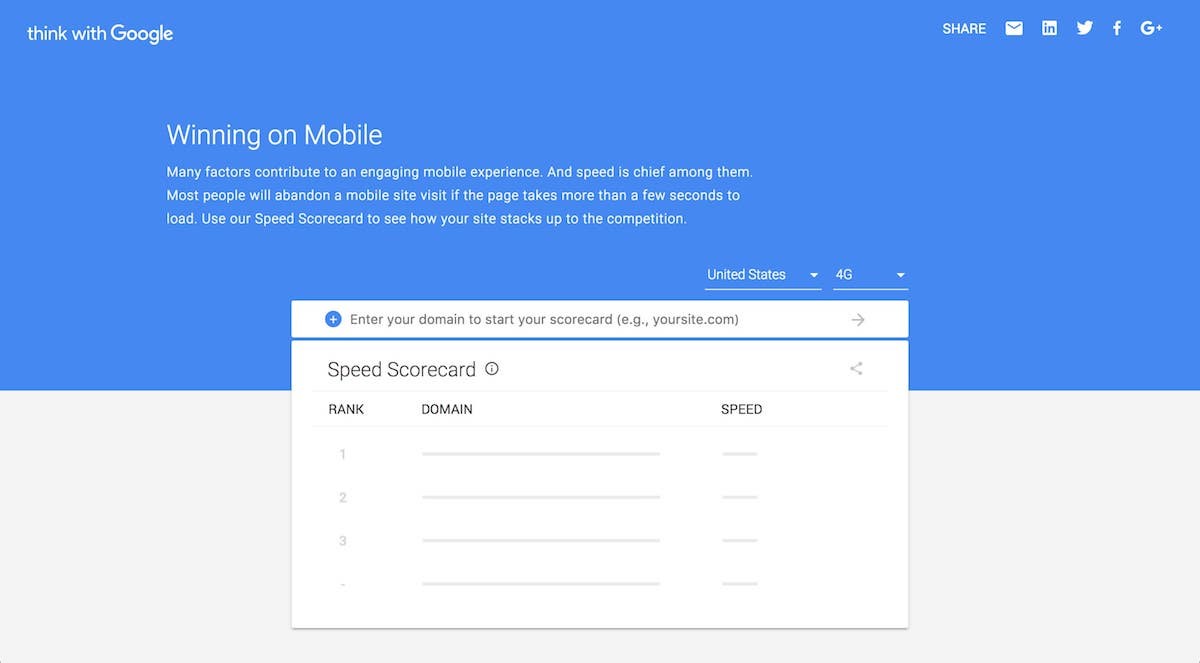 Google's data shows precisely how critical it is to have a fast loading domain. A page that takes between 1 and 3 seconds to load has a probability of the user 'bouncing', and leaving the page at 32%. A page that loads between 1 and 5 seconds jumps to a staggering 90%.
Mobile Speed Scorecard
The Speed Scorecard Tool works in much the same way as Google's updated PageSpeed tool. Input your domain into the tool and you will be given a page load score. Take note, you can also specify your country location and connection (3G or 4G). Add up to 10 competitors to give your score some context.
The potential revenue tool may even be more helpful. By adding the information, see below, you can predict what the likely effect speed may have on revenue. If this doesn't make companies sit up and take note, we're not sure exactly what metric will. You can then adjust the slider to see how improving your site speed can grow your revenue. Just remember to segment your mobile data from desktop and tablet before using the tool, or this will give you an inaccurate general 'all-traffic' figure.
Domain
Current Speed
Average Monthly Visitors
Average Order Value
Conversion Rate %
Mobile First
Google has made huge strides in the last few years to improve the mobile user experience. Google originally launched PageSpeed insights, to show how fast web pages load, and now their search engine is 'mobile first'. It's worth noting that in July 2018 Google will begin using mobile page speed as a distinct ranking in their mobile search results.
Lost Attention
The success of any SMS marketing campaign is tied closely to the how fast your mobile website loads on the user's mobile browser of choice. If you send out an offer, which then directs the user to a specific page on the website, the transition from the text message, to fully loaded webpage needs to be seamless. If the mobile web page takes a considerable time to load, then you may have lost the attention of a potential customer.
Click here to try Google's new tool. Test your mobile site to see if there are any issues that could result in your customer's experience being anything less than perfect.